Growing, Evolving and Healing
Saturday, July 25, 2020
Dear friends,
It has been exceptionally long since I've updated my website and I thought I'd share my journey with you. Life takes unexpected turns and I've grown and changed in ways I never would have imagined.
For a long time, I thought fiber art and fine craft would be my whole world for the remainder of my career, but a life-altering accident in 2011 brought changes I never could have expected. With such an extreme situation, I found myself turning more and more to my own spiritual pursuits. Those pursuits turned into new career opportunities facilitating workshops and doing psychic readings at the InSpirit Centre in Georgetown Ontario owned by my sister Barbara Ford-Pimento and her husband Mark Pimento. In terms of my fiber art, I felt like I'd entered a sort of incubation period, knowing that my work was changing but not yet knowing how it would manifest. I'm still not sure where my visual arts are going but when I find out, you'll be the first to know!
In 2019 I underwent my fourth major shoulder surgery. The partial shoulder replacement I had finally failed, leaving my shoulder completely dislocated for over a year while I awaited my next surgery. When I finally received the date of my surgery, I was shocked that it was booked on the anniversary of my accident in 2011! The surgery date got changed delaying it for a week, but it got me thinking about how things have come full circle and how much I've grown since the initial accident. Still, it was like reliving the experience all over again. I faced the pain and my fears and am moving forward!
Now it's 2020 and we are all coping with Covid-19. The econo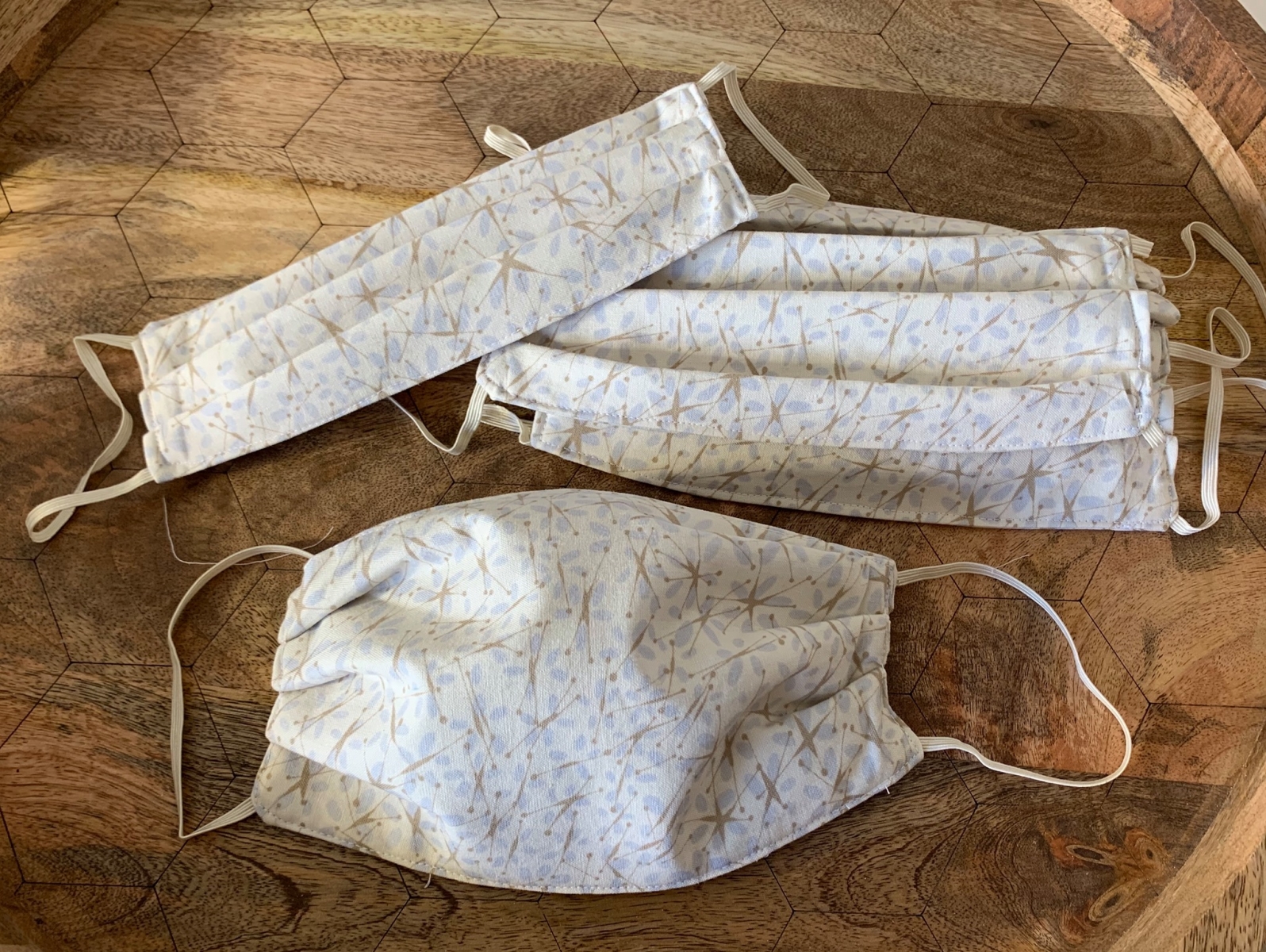 my is finally opening up in Halton Hills since the shut down in mid-March. Prior to this my sewing studio hadn't seen much action in a couple years but suddenly the world was struggling to keep up with the demand for PPE. My cousin who is an RN, and my stepdaughter who is a microbiologist, strongly encouraged me to sew cloth masks and so I did. The supply chain also struggled to keep up with the demand for sewing supplies, yet I had a fully stocked studio at my disposal. How could I say no?
I sewed and sewed from March to May. I donated over 250 masks to vulnerable persons in my community, grocery store workers, two retirement homes and local seniors. An unexpected influx of donations kept my project going until the supply chain finally caught up. Without access to regular physiotherapy, chronic pain and mobility issues has kept me from doing more. And that's OK. I was just happy to have contributed during a time of need and be a part of something greater than myself.
Now that we're all adjusting to the new normal, it's time to think about the future and where to go from here. So where are things going for me? To start with, I'm looking forward to sharing more about who I am and more facets of what I do. I expect the look of my website to continue to change and transform along with the products and services that I offer to become broader and to reflect my current areas of interest.
In the meantime, you can find out more about my special projects going on at the InSpirit Centre in Georgetown, Ontario. More on that later! And of course, you can still find me on Etsy. My shop will be undergoing big changes too, but custom handmade leather journals and other goodies are still available now.
I hope all of you are staying well and safe during these challenging times.
Much love!
Christine
© 2020 Christine Marie Ford – All rights reserved.